Virginia Museum Educator Award 2022
Date posted
August 14, 2023
Virginia Museum Educator Award 2022 - Christy Deatherage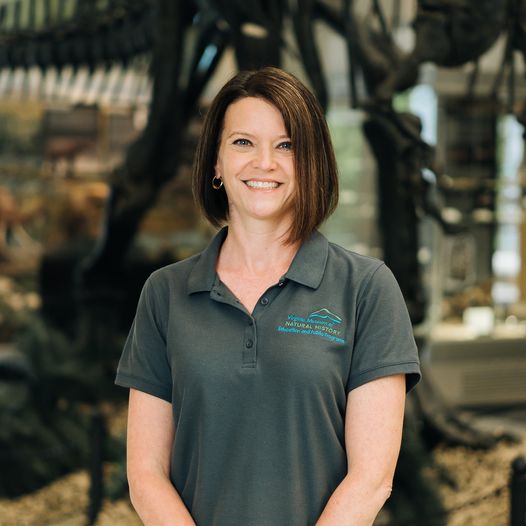 As Virginia Museum of Natural History Education Manager, Christy coordinates the museum's entire repertoire of educational programs, including at-the-museum programming, outreach and distance learning programming, and specialty programs, such as the museum's Summer Adventure Camps, the VMNH Homeschool Science and Engineering Academy, museum sleepovers, science-themed birthday parties at VMNH, and the museum's Doodle Bugs program for ages 3-5.
Beyond providing extraordinary educational programs for students, Christy also leads teacher workshops, develops a wide variety of educational resources for both teachers and parents, and volunteers her time and professional expertise to a variety of important causes, such as serving as Secretary for the Virginia Resource-Use Educational Council and Advisor for the Southwest Piedmont Chapter of the Virginia Master Naturalists.
A member of the museum's leadership team, Christy also provides critical support for a wide variety of inter-departmental initiatives, including the development of special exhibits, the presentation of VMNH science festivals, and even the securing of grant funding to help ensure her programs can reach students throughout the entire Commonwealth.
While Christy has worked for the museum for over 19 years, she consistently brings new ideas to expand the museum's educational offerings. During the pandemic restrictions, she greatly enhanced the museum's virtual programming to reach students remotely and provided a wealth of content for the museum's social media activities, including the production of the "Museum Minute" series of videos that brought VMNH exhibits to audiences who could no longer visit the museum.
As school regulations have fluctuated, she has worked with teachers to ensure students continue to have access to the museum's educational resources, whether they are inside school classrooms, online, or at the museum. Christy has also recently added innovative components to the museum's regular classes, including operating vertical greenhouse units that allow students to study and track plant growth.