Diversity, Equity, Access and Inclusion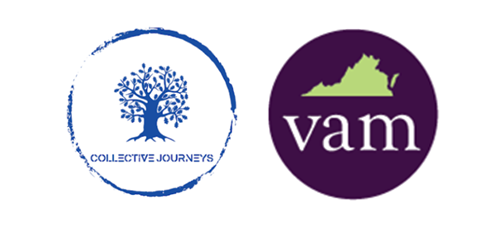 VAM is working on a multi-year DEAI project to both ensure that VAM is an inclusive organization and to help all of our members with their 
efforts to be as inclusive as they can be.
The Virginia Association of Museums is proud to work with Richard Josey, Principal of Collective Journeys, on Diversity, Inclusion, Equity, Accessibility, and Inclusion (DEAI) efforts. 
---
Read the inital press release of the DEAI project: Click Here
Richard Josey also gave VAM's welcome address at the 2021 virtual conference.  View the recording here.

---
Over the next year, Richard Josey is working with VAM to:  
1. Develop a Task Force to help VAM in shaping the work plan and ensure that any areas of importance are not missed. 
2. Suport DEAI Workshops/Tuesday Talks to help particpants engage with DEAI in practical ways. 
3. Gather Information from members across the state to help determine a baseline and any fears or percieved obstacles. 
4. Establish Criteria for Sucess to help VAM identify oppournities for growth. 
5. Develop a Work Plan so that VAM can continue this work towards this goal in the years to come. 
---
DEAI Task Force Members 
---
2020-2021 DEAI Chats
DEAI Talk: What Now?, April 2021
Developing an Accessibility Plan, February 2021
Accessibility in Museums, January 2021
The Empathetic Museum, December 2020
Museums and Race, November 2020