VAM Annual Conference 2021
March 15-19, 2021 ~ Save the Dates for #VAM2021 Online!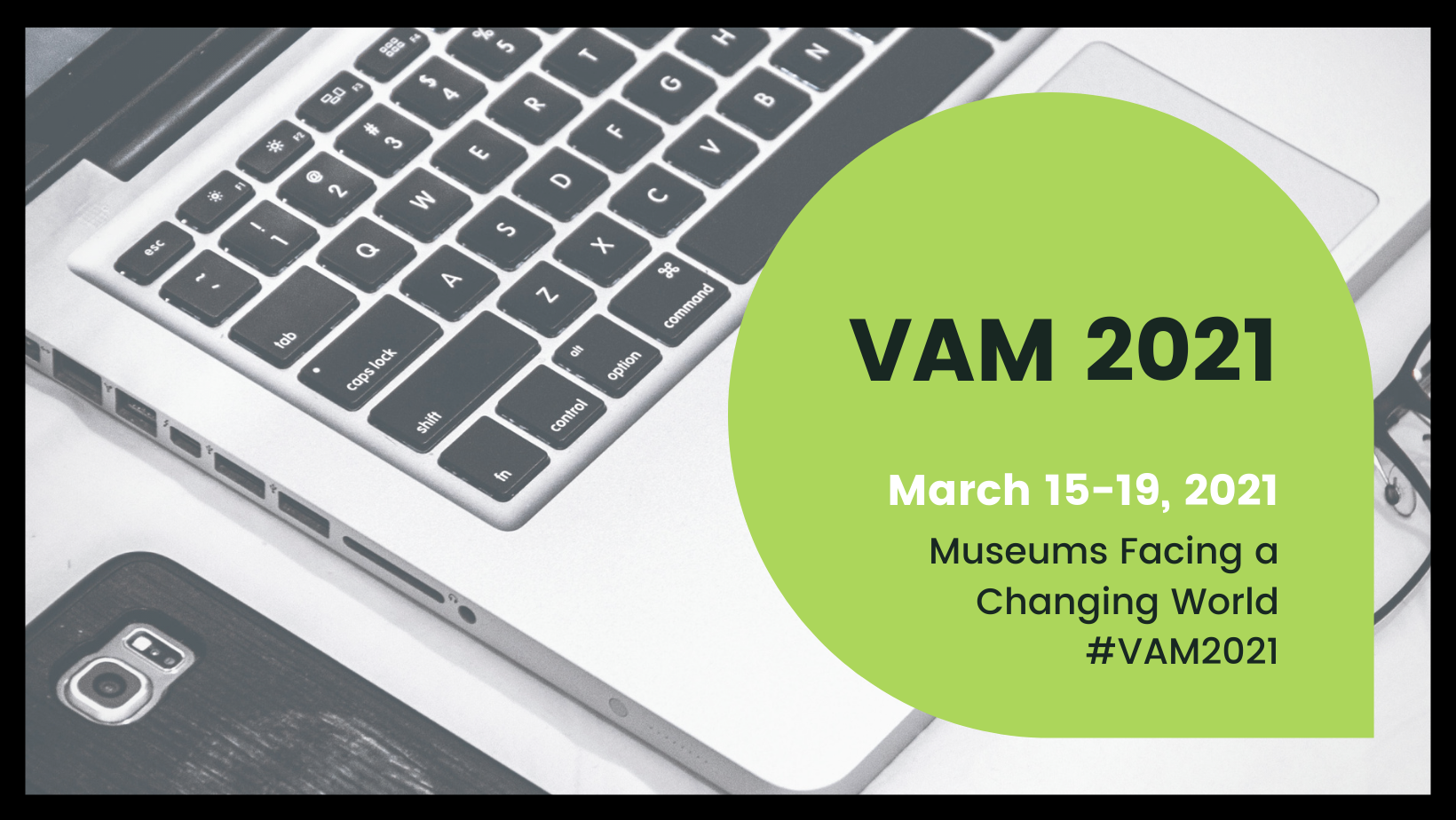 Museums Facing a Changing World
VAM 2021 Virtual Conference
March 15-19, 2021


No one would have expected that the year 2020 would bring such strife and change to our lives, our organizations, and our nation. Whatever we thought the "future" meant a few years ago may not be what we think it means now. And a phrase like the "new normal" is constantly evolving, and what might seem "normal" in 2020 might not be "normal" in March 2021 when our annual conference takes place. A "new normal" brings a need for more than necessary adjustments caused by a pandemic. It means heightened emphasis on race relations, dealing with political and social polarization, transitioning to digital content delivery, and so much more.
What will the future hold for Virginia's museums, and what will we provide and what will become our unique value? The people that power Virginia's museums are creative, giving, and resilient, and will no doubt work together to harness recent events as well as emerging trends and technologies to meet tomorrow's challenges, whatever they may be.
In our ongoing mission to support our museum community, we are encouraged by the support of our conference committees and board in presenting our premier professional development and networking event this year...online.

We are excited about the program we have put together for you--while we can't be together in person, we hope you will enjoy the content and the opportunities to engage with your fellow museum professionals we have included in our first ever virtual conference! We hope you will plan to join us.

---
Conference Highlights
All sessions, live and pre-recorded, will be available to registered conference attendees during the conference and the remainder of 2021--you can watch sessions whenever is convenient for you!!
While we may not be able to see you in person this year, an online conference allows us the opportunity to celebrate all of our regions and members around the state. Each of our five regions around the Commonwealth - Northern, Tidewater, Central, Southwest, Mountain Valley - will be daily.
Virtual Exhibit Hall with opportunities to connect with our business community family.
Each day will include two live sessions--a general session that will have a featured speaker or panel on a topic of importance, and a session that was chosen by our conference committee, to allow for conversation and questions.
Join us nightly for Live @ 5 - fun evening opportunities to gather (virtually) with your VAM fam!
We will be using our Socio platform for the online conference--if you downloaded the conference mobile app in the past, this will look familiar to you, and will be easy to use.
Attendees registered by March 3 will be added to a conference mailing that includes a conference brochure, stickers and more. Museum Pass holders will receive five items of each item. *Due to issues with mail delivery because of Covid, we cannot guarantee delivery by March 15.


Conference Brochure Side 1 Conference Brochure Side 2

---
Registration Rates
$80 Member

$130 Non-member

$300 Museum Staff Access Pass *Allows museums to share online conference access to all staff

*Are you a Benefactor or Student member or part of the Conference Planning Committee?
Contact cnewton@vamuseums.org if you have not received your discounted promo code.
---
Additional Conference Opportunities


Business & Sponsor Opportunities
Donate an Item or Experience to the Online Auction
Museum Educator of the Year Award
Ann Brownson Award for Outstanding Service to the Museum Field
---
Our Sincerest Thanks to the 2021 Conference Sponsors!
Platinum Level Sponsors
DLR Group
Glave & Holmes Architecture
Gold Level Sponsors
Quinn Evans Architects
STQRY
Silver Level Sponsors
Quatrefoil Associates
Re:Discovery Software
Riggs Ward Design
Spacesaver Storage Solutions
The Design Minds