VAM Annual Conference 2020
Registration closes March 2nd!

Making Museums Essential
VAM 2020 Annual Conference
Chantilly, Virginia ~ March 7-10, 2020
Westfields Marriott Washington Dulles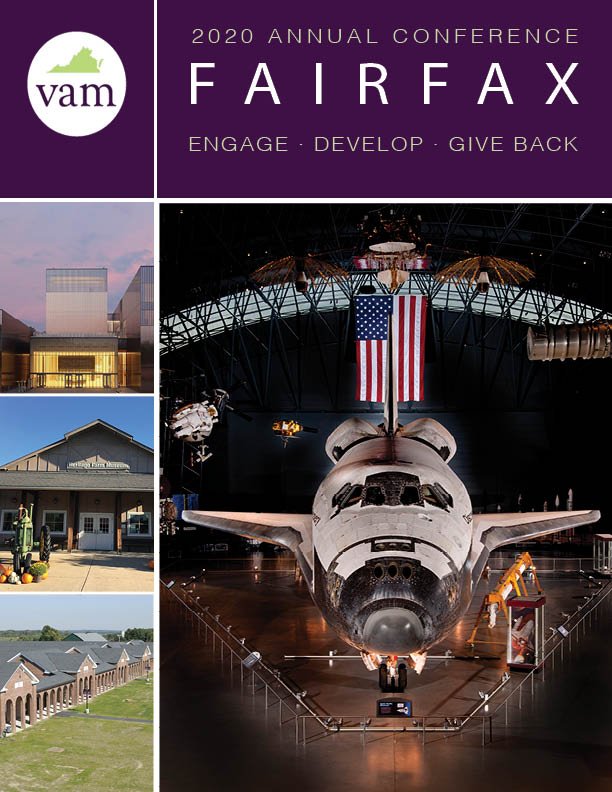 View the Preliminary Conference Program
Donate to the Silent Auction to help support VAM's programs!
While museums will likely always face concerns such caring for their collections, securing funding, and creating awareness of their organizations, 21st century skills are increasingly taking center stage. Attributes as critical thinking, creativity, collaboration, and communication should be applied now more than ever, whether to improve internal operations or external outreach. Breaking down barriers to be more inclusive, equitable and diverse are monikers of the modern museum.
As the latest national data indicates, museums are considered the most trustworthy entities in the nation. More than newspapers, non-governmental organizations, state agencies, and the Federal government. An honor no doubt,
but a heavy responsibility nonetheless. So as we near the end of the second decade of the new millennium, how can museums support the needs of their communities and strive for positive transformative change? Or is that our role?
We encourage you to get involved in the conversation at the 2020 Annual Conference of the Virginia Association of Museums as we come together, hundreds strong from across the Commonwealth and Washington, DC. Join us for four days of quality professional development training, engaging dialogues, fascinating tours, and fellowship as we visit Fairfax County, an area of diverse attractions, rich dining and shopping experiences, and near our nation's capital.
---
Conference Program
Thirty educational sessions, thirteen events and tours, three delicious meals, one awesome conference!
Read about the upcoming 2020 Annual Conference in the preliminary program now!
---
Conference Registration
Questions? Call 804.358.3170 or email cnewton@vamuseums.org

Registration Rates:
$395 Non-member, Full Conference
$325 Member, Full Conference
$265 Speaker & Student Member, Full Conference
$290 Multiple Member, Full Conference (Discounted rate when sending 3+ representatives from a member site)
$200 Conference Committees & Benefactor Member, Full Conference
$255 Single day
$155 Speaker Single Day
$155 Guest pass
*TIP! You do not have to pay when you register. Simply ask to be invoiced.
---
Conference Hotel
VAM's 2020 Annual Conference will take place at the
Westfields Marriott Washington Dulles
.

The room block discount has passed but rooms are still availabe. Reservations can be made by calling

(703) 818-0300. The room block rate will likely not be available, so you will need to reserve at whatever the market rate is.
*Be sure to sign up for

Marriott Bonvoy

membership if you're not a member already, to access free wifi in your room and public areas. Membership also offers discounts on hotel room reservations.
If you have an existing reservation, you can manage that online here.
---
Conference Opportunities
Sponsorships & Exhibit Hall - Learn about the various ways your business or organization can take part in one of the largest statewide museum conferences. Become a sponsor or exhibit today! Our Exhibit Hall is Sold Out!
Volunteers & Scholarships - VAM is committed to assisting our museum community succeed by providing financial assistance to those who might not be able to attend through scholarships and reduced registration fees when volunteering.
Student Research Session & Scholarships - Three selected undergrads, graduate students or emerging museum professioanls will be selected to present their latest museum-based project or research at the conference and receive full conference registration
Awards - VAM's new Innovation Award recognizes the meaningful work museums make on our community. The Virginia Museum Educator Award demonstrates recognition for the continued commitment to educational experiences.
Silent Auction - We're bringing back the auction! Please consider donating toward VAM's silent auction. It's a fun and easy way to help support VAM's extensive range of programs while providing a fun activity at the conference.
Download a donation form here. Thanks!
---
Thank You to Our Conference Sponsors!
Strategic Partner
Strategic Event Sponsor
Virginia Museum of History and Culture and the Virginia Women's Suffrage Centennial Commission
Gold Level
Glavé & Holmes Architecture
Steven F. Udvar-Hazy Center
Virginia Tourism Corporation
Silver Level
Cat Tail Run Bookbinding
Cinebar Productions
Schmitz-n-Schmitz Global LLC
University of Richmond School of
Professional & Continuing Studies

VAMONDE