Back to Products & Services
Certificate Program Sign-Up Fee
Professional Development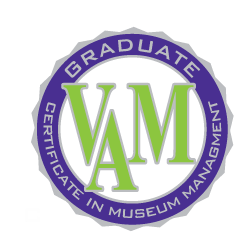 Sign up now to be a part of the Virginia Certificate in Museum Management program. *This is a one-time fee
The Certificate was created to provide high level, easily accessible professional growth to career-minded museum staff and volunteers. 
In administering this certificate, the Virginia Association of Museums works closely with Community Foundation's Nonprofit Learning Point, John Tyler Community College, Tidewater Community College's Academy for Nonprofit Excellence, and the University of Richmond's Institute on Philanthropy.  Each of these institutions has lent their support to the certificate, and each has a representative who serves on our Certificate Review Committee to ensure that our standards remain high and consistent.  Students are able to fulfill certificate credits through VAM programming, as well as programs offered by our partners and other service providers around the state.
**This program is only available to VAM members.  The "nonmember" price listed below includes a year of individual membership.   
---