Back to Events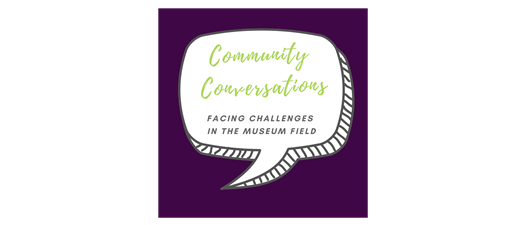 Community Conversations Charette-Southwest Virginia
Wednesday, December 15, 2021
Event Details
Southwest Virginia Charette
Community Conversations Initiative:
Facing Challenges in the Museum Field
VAM recognizes that the museum community is currently seeing significant change in how visitors experience our museums and how museums respond to current events. To address these challenges, we are currently pursuing our Community Conversations Initiative that we hope will serve to help members and the museum community respond to key periods of transition in the field and help identify strategies for organizations to respond to changing societal needs and expectations, and to provide the tools and preparation necessary to address these changes effectively.
The Initiative involves interactive efforts with members to seek effective solutions that can be shared across the field. This process started with online Focus Groups this summer and now feature a series of in-person charettes that will offer an opportunity for deeper discussion and brainstorming.
To do this we need your help!
We invite you to attend one of the in-person charettes being held in each of the five regions of the state that comprise VAM's membership map, including: Central Virginia, Mountain & Valley, Northern Virginia, Southwest Virginia, and Tidewater & Eastern Shore.
These half-day gatherings will offer members an opportunity to help tackle the challenges and advice raised during the Focus Groups and be personally engaged with their membership association in leading change in the field.
Attendance will be limited to foster intimate discussions in a safe environment during the pandemic.
What is a Charrette?
A charette (pronounced "shuh-ret") is an intense period of work by a group of people, that is often used by various design fields, preservationists, government, housing, and community organizations to tackle an issue or further concept development. The process typically brings groups together for deep listening, brainstorming, and creative problem solving.
The word charette comes from the French word for "cart" or "chariot" and is sometimes spelled "charrette." The term is thought to have originated in the 1800s at the Parisian art school, the École des Beaux Arts, when professors would circulate a cart, or "charette," to collect final artwork while students worked feverishly to meet the deadline.
You will be asked to acknowledge and agree to the following COVID Guidelines and Release Agreement on the registration form:
By submitting the registration, I affirm I have read and agree to the following terms for attending a Virginia Association of Museums event.
By registering and attending an event/meeting held or sponsored by the Virginia Association of Museums (VAM), registrants/attendees acknowledge that there is an unknown risk of exposure to COVID-19 through personal contact and to contaminated objects. Such exposure carries with it a certain degree of risk that could result in illness, disability, or death. I agree to release and hold harmless VAM its employees, officers, and vendors from and against all claims of damages and liability resulting from exposure to COVID-19.
While participating in events/meetings, registrants/attendees acknowledge that they must abide by the guidelines of the event/meeting venue, and to comply with the recommendations of the Commonwealth of Virginia, including: wash hands regularly; maintain six feet of physical distance; and get tested immediately if you have COVID-19 symptoms.
We also ask that registrants/attendees wear face coverings if not vaccinated to reduce the potential spread of COVID-19 and encourage those who have been vaccinated to wear their masks if they wish.
In light of the ongoing spread of COVID-19, individuals who fall within any of the categories below are asked to not engage in VAM events:
Individuals who currently or within the past fourteen (14) days have experienced any symptoms associated with COVID-19, which include fever, cough, and shortness of breath among others;
Individuals who have traveled at any point in the past fourteen (14) days either internationally or to a community in the U.S. that has experienced or is experiencing sustained community spread of COVID-19; or
Individuals who believe that they may have been exposed to a confirmed or suspected case of COVID-19 or have been diagnosed with COVID-19 and are not yet cleared as non-contagious by state or local public health authorities or the health care team responsible for their treatment.
Participants agree to self-monitor for signs and symptoms of COVID-19 (symptoms typically include fever, cough, and shortness of breath) and, contact VAM at cnewton@vamuseums.org if you experience symptoms of COVID-19 within 14 days after participating with VAM.