Conference Registration & Hotel Information
We cannot wait for you to join us in person in Richmond March 5-8th! 
Conference Registration Rates: 
3/3/2022
VIrtual Participation is still available. Click the register button to sign-up to view the Conference virtually.
All other registrations are now CLOSED!
*Get $50 off on "VAM Member Full Conference, Non-Member Full Conference, & Multiple Registrant" registrations by using Promo Code VAM2022RVA at check out when registering before February 25, 2022.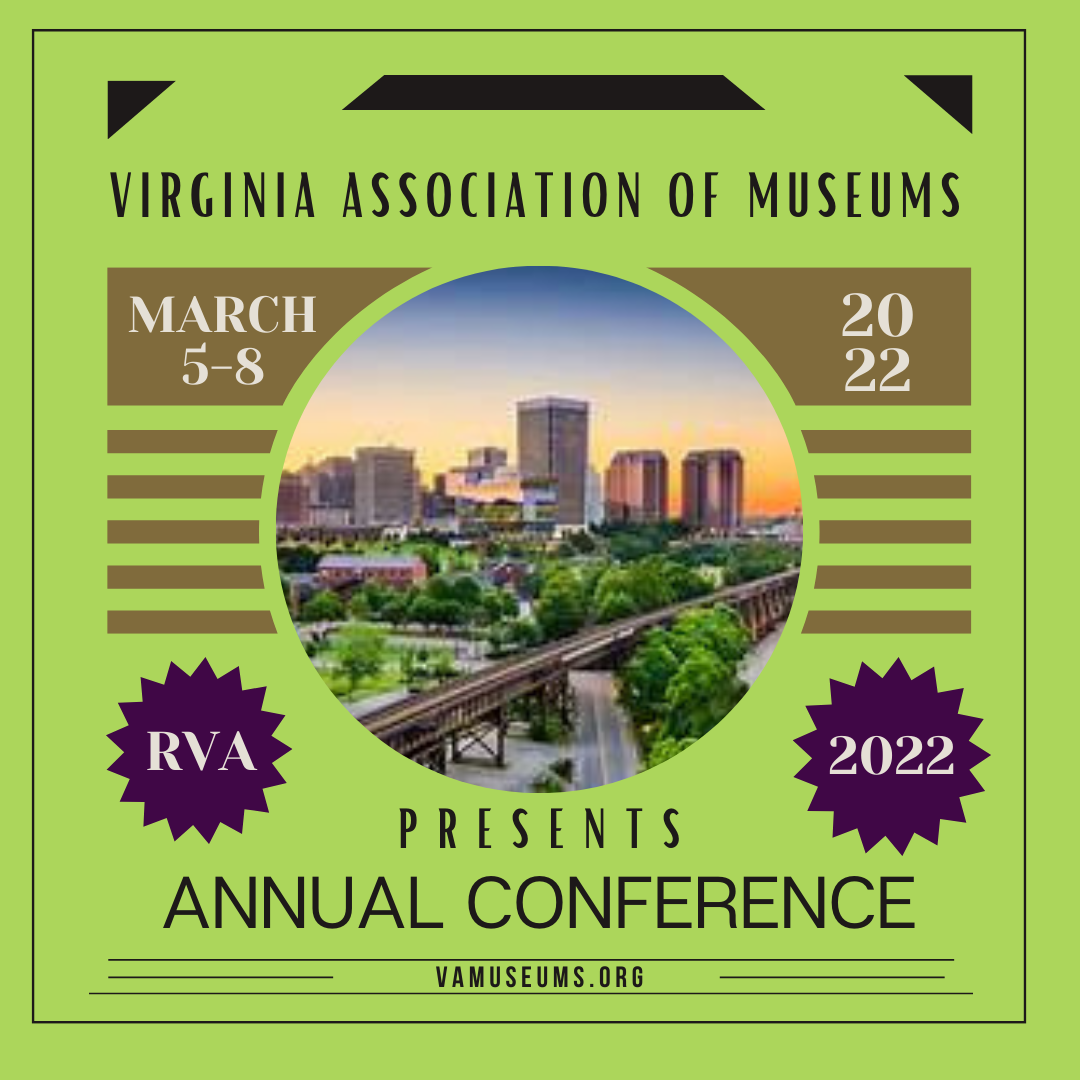 *Non-Member Full Conference $385
*VAM Member Full Conference $325
*Multiple Registrant (museums sending 3+ attendees) Full Conference $290
Speakers Full Conference $265
Conference Committees Full Conference $200
Student, First-Time Attendee Member Full Conference $200
Single Day, Individual $255
Single Day, Speaker $155 
Virtual Participant $49
Volunteers Full Conference  $75
---

Virtual Registration to the conference is presented by the Jamestown Yorktown Foundation and will include live in-time streaming of all sessions  through the Annual Conference's Socio App. Sessions will also be available through the app for later viewing.
---
**Volunteer positions are now available. CLICK HERE to apply. Priority will be given to Recent Graduates, Students, & First-Time Attendees. 
Volunteers are still being accepted until positions are filled. 

---
CLICK HERE TO RESERVE YOUR ROOM
Hotel Information: 
We are excited to be back in Richmond for the VAM Annual Conference! We'll be staying at the Onmi Richmond Hotel, where we've arranged a special, low conference rate of just $149 / night single or double. Act now to take advantage of this low rate as our room block will expire on February 25, 2022.  
To Book Your Room for March 5-8: 
-Call 804-344-7000 and mention "Virginia Association of Museums".  
- Register online at the link above. 
The Onmi Richmond Hotel is located at 100 S 12th St, Richmond, VA 23219. 
Parking Information: 
Valet Parking $30/day
Self-Parking $25/day 
---
What are the top 3 reasons to stay at the conference hotel?
VAM Conferences are all about connecting with colleagues, sharing ideas, and networking. Don't miss a beat (or an event) by having to come-and-go in busy Richmond!
Feel free to imbibe guilt-free at our evening receptions.
Have a break in your conference schedule? Sneak in a 20 minute power nap in your comfortable room!

---
Conference Cancellation Policy
The cancellation deadline for the annual conference is Febuary 25, 2022. Only refund requests for cancellations received in writing and postmarked/emailed by this date will be considered. Refunds will be processed after the conference. A $75.00 processing fee will be deducted. VAM pays upfront costs for each registrant well before the event itself. If you cancel after this deadline and have a balance due, you will be responsible for that balance.
Covid-related Transfer Policy (effective for 2022 VAM Annual Conference):
If you are unable to join the in-person conference for any of the following reasons:
you feel ill;
you are experiencing symptoms of COVID-19;
you have tested positive for COVID-19 within 5 days of arriving to the conference; or
you are uncomfortable attending due to COVID conditions
VAM will honor your registration and offer two transfer options:
you may transfer your on-site registration to a virtual registration and receive a refund of the difference between the rates; or
you may transfer your on-site registration to an alternate individual to attend.
Please contact membership@vamuseums.org or call 804-358-3170 to notify of cancellation, with any cancellation questions, or to arrange a covid-related transfer.