The People's Choice & Selection Committee Awards Announced for the 2020 Top 10 Endangered Artifacts
Date posted
January 22, 2021
The
Virginia Association of Museums
is pleased to announce the final awards
selection for the 2020 Conserving Diversity edition of the
Virginia's Top 10 Endangered Artifacts
program.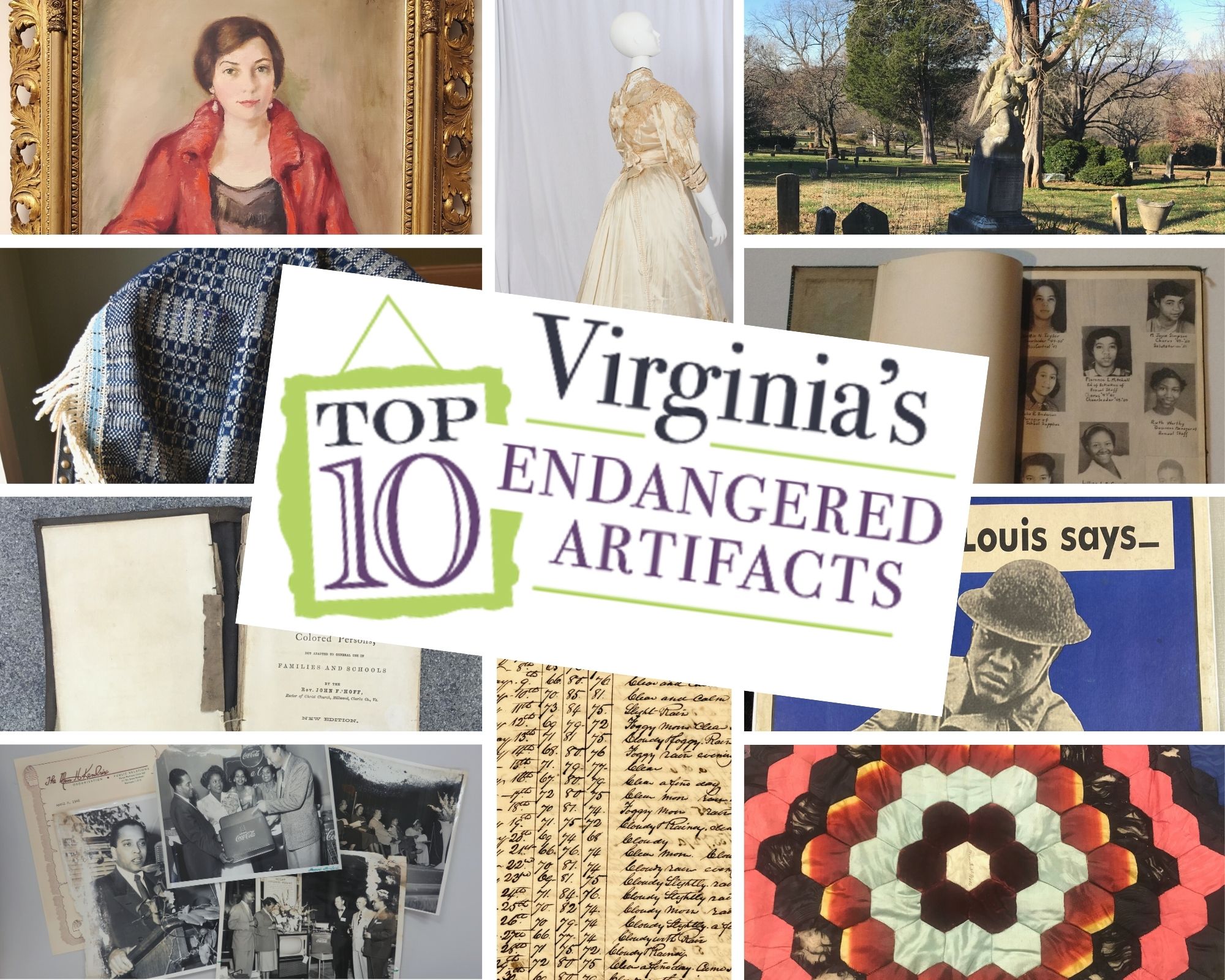 Lynchburg, Virginia's
Old City Cemetery Museum and Arboretum
is the recipient of the
People's Choice Award
thanks to their successful public outreach that garnered them nearly 4,000 votes in the online competition. Receiving the most votes for their
Angel Statue, circa 1909
, this iconic historic site will receive a $1,000 award to assist in the conservation of the unique statue-style stone in the African American section of the cemetery. Once repaired, the statue can serve as a catalyst of increased research and interpretation of the predominately African American section of the cemetery, and the family whose plot it adorns.
Richmond, Virginia's
Valentine Museum
has been selected to receive the
Selection Committee Award
for their
Afternoon Dress Designed & Created by Black Dressmaker Fannie Criss Payne, circa 1905.
The independent advisory committee of conservators and collections and preservation professionals noted the textile's historical significance and immediate need of care in their decision to bestow their $1,000 discretionary award. The museum's conservation treatment plan is to render the artifact safe for installation, including incorporation into the museum's core exhibition "This Is Richmond, Virginia" and educational programming focused on the Jackson Ward neighborhood and Black entrepreneurship in Richmond.
Additional support of $250 each will be awarded to the other eight honorees of the program, including:
Moss Kendrix Collection, circa 20th century
Manual of Religious Instruction, circa 1857
Portrait of Elizebeth Friedman, circa 20th century
Weather Journal of Washington Stephenson, circa 1838-1867
Coverlet Created by Enslaved Woman of Montgomery County, circa 1850
WWII Recruitment Poster Featuring Joe Louis, circa 1942
Album Quilt Created by Ladies of Dinwiddie, circa 1850
Jessie Reasor Zander Photograph Collection, circa 20th century
Over 13,000 votes were cast in the online voting competition for this year's program, highlighting the extensive public support of saving Virginia's historic and cultural treasures. In addition to creating awareness of the often unknown stories or overlooked people found in museum collections, this year's theme of
Conserving Diversity
also aims to educate about the high cost and expertise required of museums and collecting institutions to maintain the artifacts in their care. The financial support provided by VAM for the honoree's endangered artifacts will help support conservation treatment and analysis, and hopefully serve as encouragement for additional donor support from the broader public.