Historic Lexington Foundation and their Slave Dwellings Project
Date posted
September 24, 2021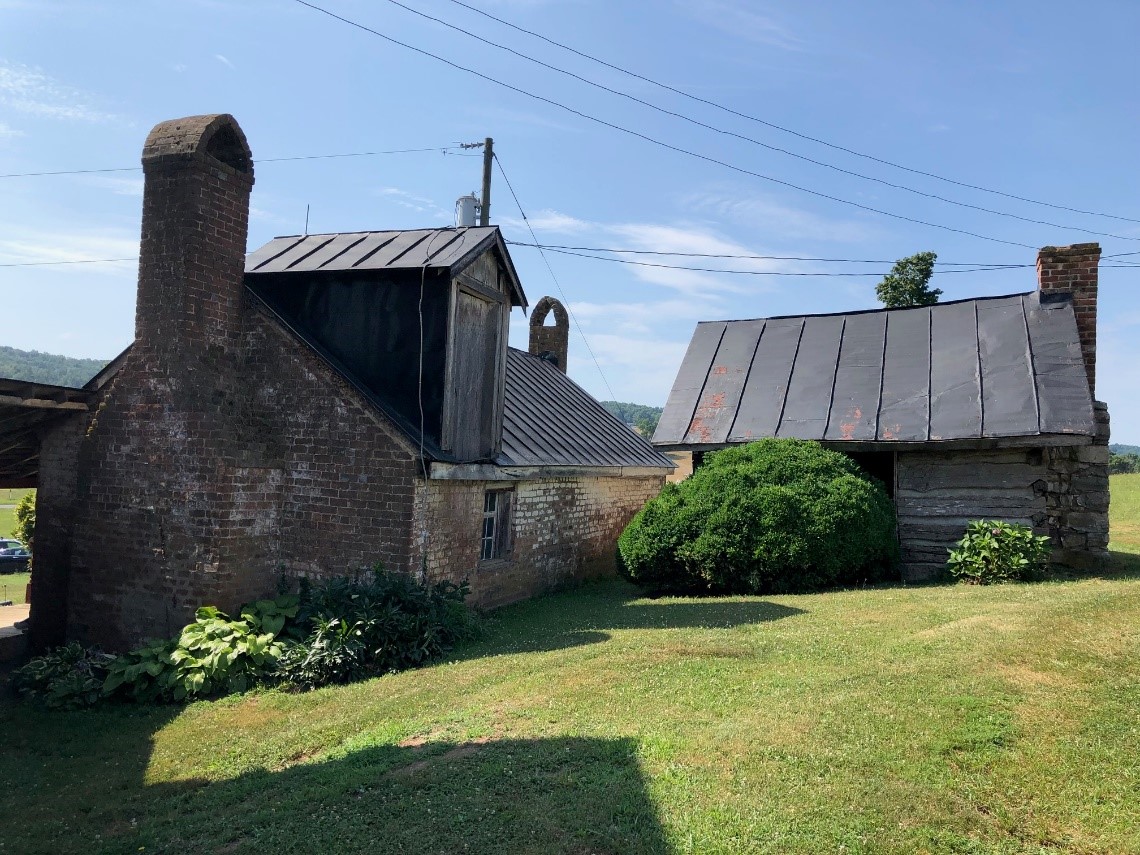 Brick and log structures at the McChesney Farm
Slave Descendants and Dwellings
In 2019, Historic Lexington Foundation (HLF) began an initiative to document slave dwellings in Rockbridge County as part of an effort to encourage preservation of these structures. As part of this initiative, representatives of HLF and the Brownsburg Museum hosted officials from Virginia Humanities in October 2019, and together they visited and documented four slave dwellings in the Brownsburg area. Plans for a follow-up effort in the spring of 2020 were necessarily postponed because of the Covid pandemic.
In late 2020, Dr. David Green, Associate Professor in the UVA Engineering Department, contacted the Brownsburg Museum via Facebook with an inquiry about his ancestors who had been enslaved by the McChesney, McBride and Brown families in Brownsburg. This inquiry led to the identification of a fifth slave dwelling in Brownsburg, and the Museum made arrangements for Dr. Green to visit the McChesney Farm in December.
In researching his ancestors, another descendant of McChesney Farm slaves, Maurice Miller, read about Dr. Green's visit to Brownsburg and was intrigued enough to make a visit himself this past April. Mr. Miller visited the McChesney Farm in Brownsburg, and then joined HLF's Executive Director, Don Hasfurther, for a visit to Evergreen Cemetery in Lexington where several of his ancestors are buried. Mr. Miller encouraged HLF and the Brownsburg Museum to remain active in their efforts to document the history of the area's slave dwellings. He noted that "It is from [Virginia] that countless African Americans were moved west and into the Deep South, a route somberly known as the Slave Trail of Tears."
Interest in documenting the Brownsburg slave dwellings and in capturing the stories of slave descendants led three Washington and Lee University students to produce a 10-minute documentary for their Cross-Cultural Documentary Filmmaking course this spring. In addition to capturing images of the five slave dwelling structures, they interviewed Dr. Green and Mr. Miller as well as two descendants of the McChesney family for their film entitled "Uncovering Connections."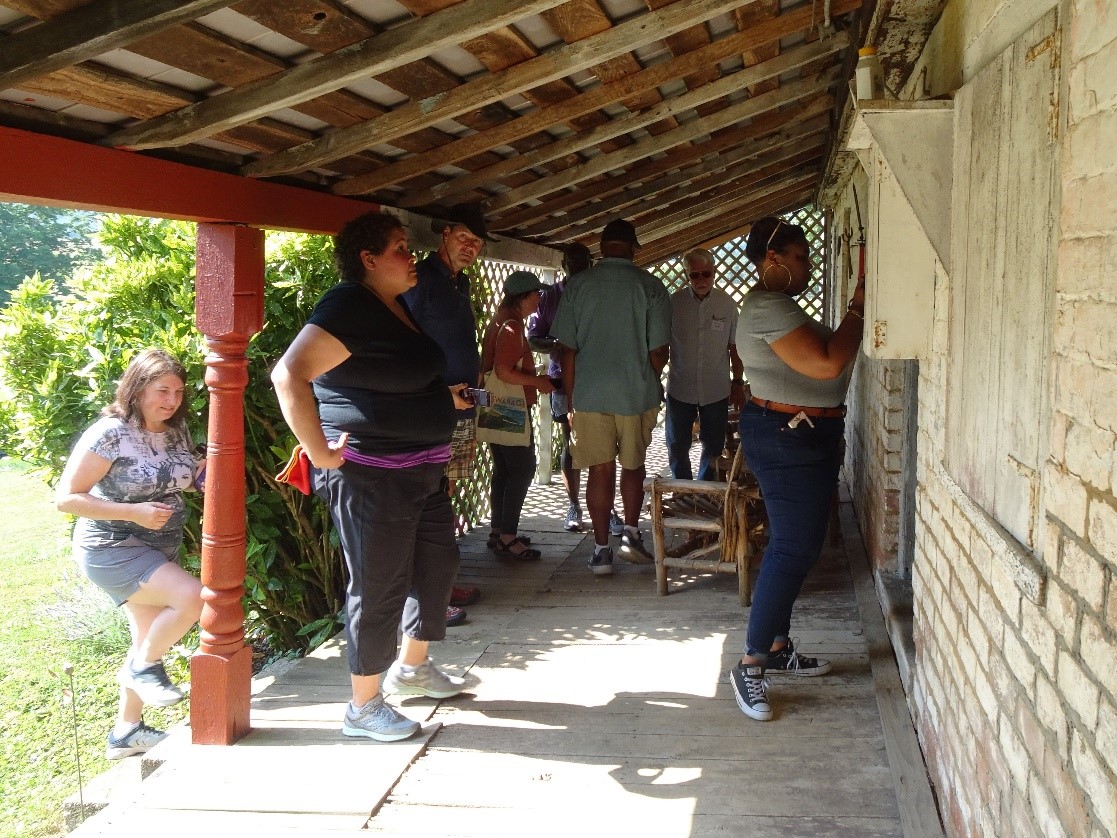 Jobie Hill and participants in the 2021 Virginia Black Public History Summer Institute at the McChesney slave dwelling
Most recently, Jobie Hill (one of the Virginia Humanities officials who had visited back in 2019) returned to Brownsburg in her capacity as Director of the 2021 Virginia Black Public History Summer Institute. Ms. Hill is a preservation architect whose research and professional work focuses exclusively on domestic slave buildings. She is the founder of the Saving Slave Houses (SSH) project with the primary goal to ensure that these irreplaceable pieces of history are not lost forever.
The 2021 Virginia Black Public History Summer Institute operates under the auspices of Virginia Humanities in Charlottesville. The program has five participants who have been able to identify enslaved ancestors, and each participant has been paired with an intern to help with research. The program began in May with weekly virtual meetings on various aspects of genealogical and other research techniques and culminates in July with site visits to locations associated with the participants' enslaved ancestors. Participants are from New York, North Carolina, and Washington, DC in addition to Virginia, and their ancestors were enslaved in such well-known places as Berkeley Plantation on the James River in Charles County, and Pharsalia in Nelson County.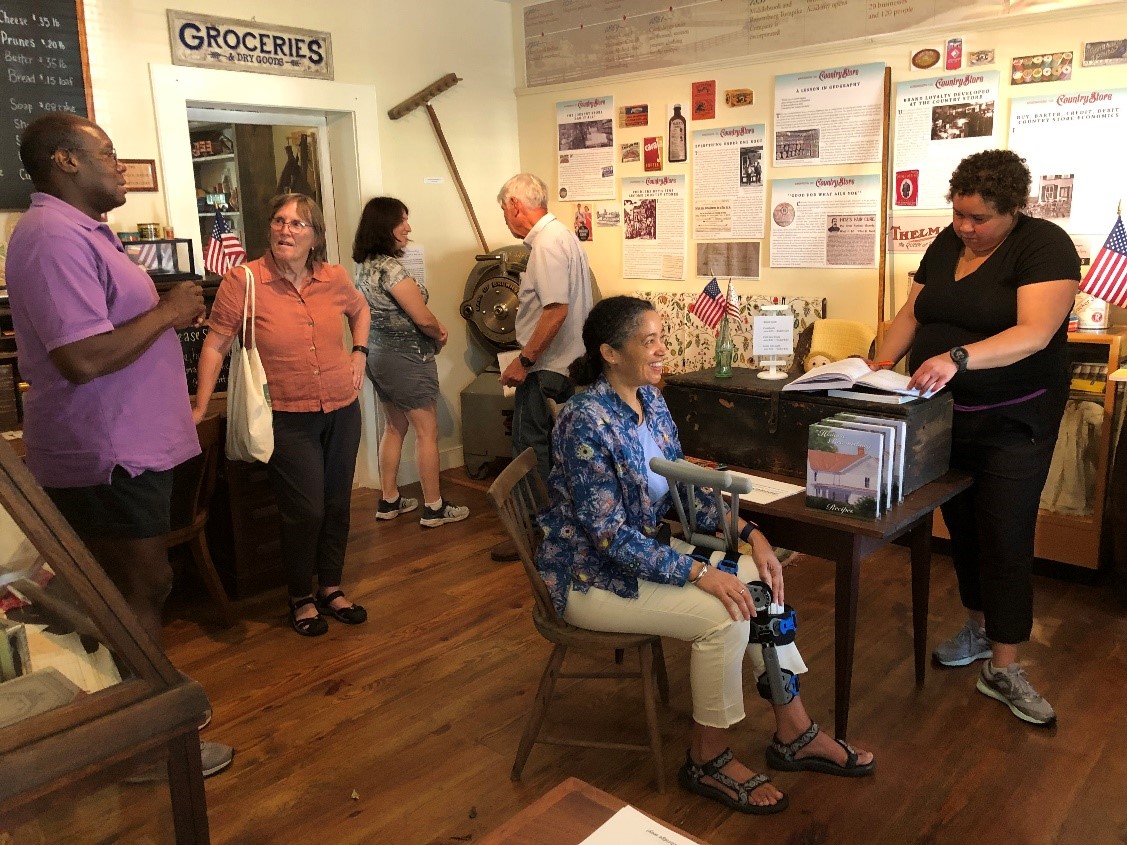 Dr. David Green, Cinder Stanton, Karen Sleezer, Paul Hahn, Victoria Wasser and Jobie Hill at the Brownsburg Museum.
Dr. David Green is one of the participants in the 2021 program, and he was joined last Saturday, July 17 by Ms. Hill and other participants on a site visit to the McChesney Farm in Brownsburg. Everyone gathered at the Brownsburg Museum, then drove out to the McChesney Farm just south of the village on Rt. 252. There, Dr. Green was interviewed by a documentary crew from North Carolina; each of the program participants is given an opportunity to make a professional quality video of the visit to their ancestral site. After the McChesney Farm visit, Rev. Reginald Early welcomed the group to Asbury United Methodist Church in Brownsburg where they were able to learn a bit about the church's history. Dr. Green led the group to the Asbury Cemetery where his relative, Maria Redd (1842-1925) is buried. Despite the heat, members of the group were full of enthusiasm, and were able to mingle with representatives of HLF and the Brownsburg Museum at a luncheon hosted by Chris and Julie Fox.
Representatives of the Brownsburg Museum and HLF plan to continue their collaboration in identifying and documenting slave dwellings.