Conserving a Coat, Uncovering a Story
Posted By Rebecca Guest
Updated: Wednesday, August 3, 2016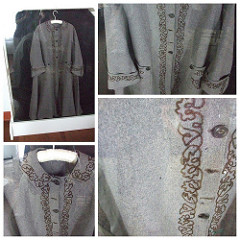 This is my third year assisting with the Virginia's Top 10 Endangered Artifacts program. My favorite aspect of the program is learning outcomes from past participants. I am thrilled to share more updates on artifacts featured in the Top 10 program.
In 2015, the Mathews County Historical Society nominated Sally Tompkins' long gray woolen coat to the Top 10 program. Sally Louisa Tompkins (1833-1916) grew up at Poplar Grove Plantation in Mathews County. She later moved to Richmond and opened the Robertson Hospital at Third and Main Streets to care for patients at the start of the Civil War. On September 9, 1861, Confederate President Jefferson Davis commissioned Sally as a captain for operating her first-rate hospital during the war. Of the 1,333 wounded soldiers treated at her hospital, only 73 died. Following the war, she remained in Richmond dedicated to working at her parish, St. James Church. She lived her final days at the Home for Needy Confederate Women in Richmond, and is buried at Christ Church Cemetery in Mathews. Today, the building that served as the Home for Needy Confederate Women is now the Pauley Center at the Virginia Museum of Fine Arts. VAM's office is located in this building.
After being featured in VAM's Top 10 program, the Mathews County Historical Society gained new supporters due to press stories covering Captain Tompkins' coat. According to Reed Lawson, the historical society's archivist, "We received donations to have the coat restored from a variety of groups and individuals. The donations were from other areas of the Commonwealth. So, there definitely was far-flung exposure."
The garment was recently restored by a VAM business member, Costume & Textile Specialists of Richmond. The specialists repaired insect damage on the coat, replaced damaged buttons and button holes, repaired seams and stitching, and replaced the silk lining. The historical society's board of directors is now considering options for a new case to protect the coat from damage.
In honor of the 100th Anniversary of Captain Sally Tompkins' passing, the restored coat was revealed during a public ceremony on July 23, 2016, at Tompkins Cottage in Mathews. Over 70 people attended the event, including members of the Christopher Tompkins family. Lawson shared, "The best part is that by having it analyzed and conserved, we know so much more about it. How very special it is, which endears us even more to our beloved Captain Sally."
Thank you to Reed Lawson and the Mathews County Historical Society for updating VAM on Sally Tompkins' coat. For more information on the historical society, visit them online. For Facebook updates, visit their page.
Sources
1. Frances Hubbard, "Mathews prepares to unveil restored coat owned by the only woman Confederate captain," Daily Press, July 18, 2016.
2. Reed Lawson, e-mail message to Rebecca Guest, July 25, 2016.
3. Reed Lawson, Sally Tompkins Coat., Nomination form for Virginia's 2015 Top 10 Endangered Artifacts Program, 2015.