VAM Powered by VAMONDE
Be a part of the new Virginia Museums mobile app on VAMONDE
VAM Members and VAMONDE
A Partnership featuring a FREE and Powerful Marketing Resource for Virginia Museums and Cultural Organizations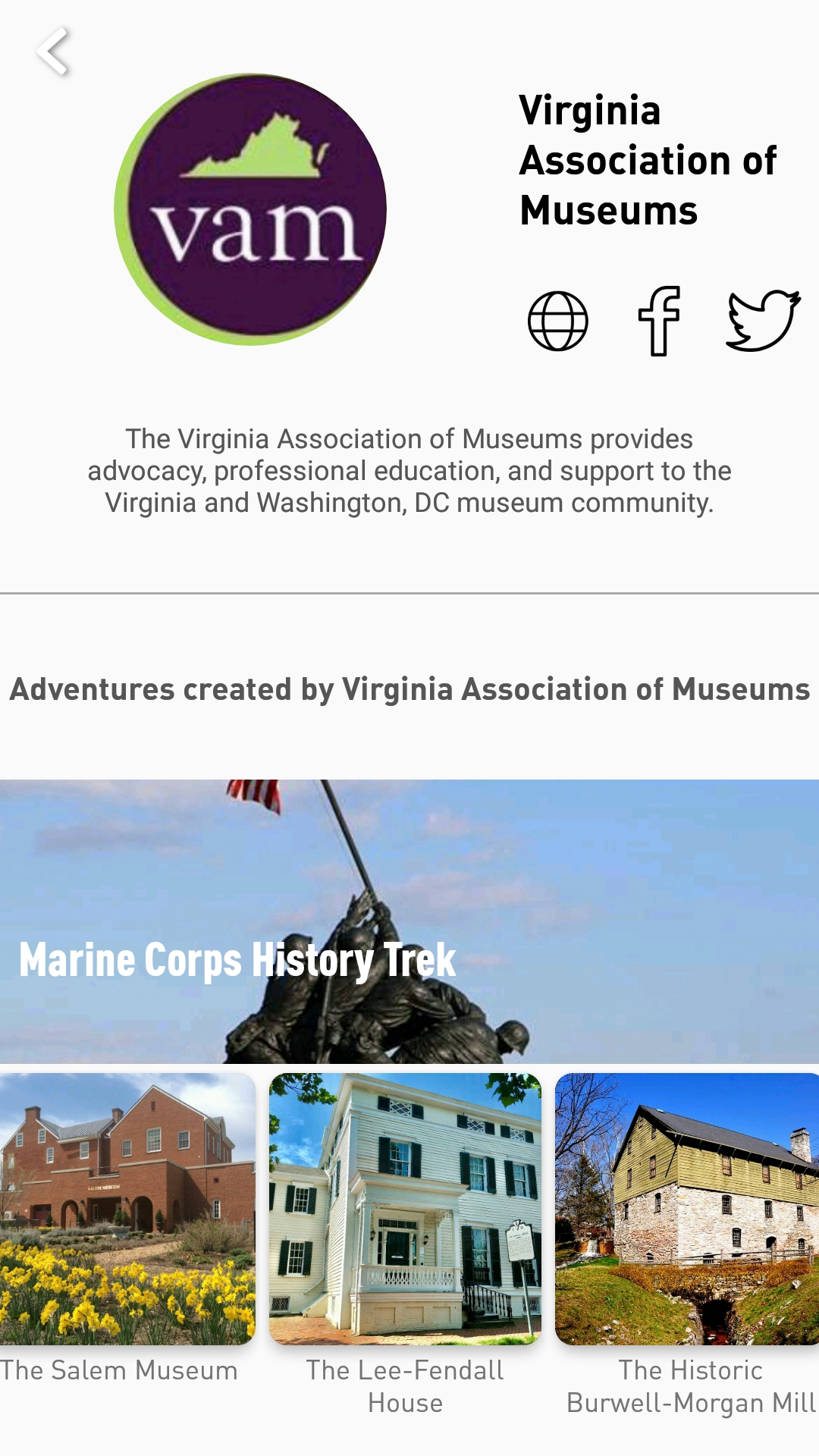 Museums and cultural institutions realize the need for a robust digital and mobile marketing strategy to meet the informational demands of today's visitors. Yet few institutions have all the funds they need to meet their future ambitions. This can change for VAM member institutions by leveraging VAMONDE in their marketing efforts. To check out our channel, download the VAMONDE app, and search for the VAM channel.
Wondering if VAMONDE is right for your site? Here are some statistics to help you make up your mind. In the first six months of the "Virginia Museums" VAMONDE Channel, we had:
7014 Total adventure views
(770 average views per month)
Currently, we have 15 participating museums, and 26 museum experiences. Our channel will only get better and better with more of our museums adding their digital stories, and sharing information about the app on their websites and promotional materials. Join us and see for yourself!
---
What's this all about?
Instead of building separate digital platforms for each organization, VAMONDE has built one network for all. This network provides the newest innovations and reduces costs by sharing the network together. You can use VAMONDE to feature your organization's stories (exhibits, events, history, artifacts, galleries, educational content, videos, and more) along with other cultural institutions across Virginia and beyond.
Finding your stories is easier when an interested audience is using the same network to search for or actively explore great content and DISCOVERS YOUR Institution! Start your multi-media story on VAMONDE and then draw users to your website. Guide users to your special call to action for tickets, events, tours and track your results through VAMONDE's analytics.
---
Create
Cut & Paste Publishing - no coding required
Bring together your existing content (blogs, Facebook, YouTube, etc.) to create one enriching story.
Geo Located Storytelling
Amplify the experience by facilitating learning in the places history, art, culture…happened.
City Wide Adventures
Extend your brand and reach across your city with themed adventures/tours.
DIY — Real-Time Editing
Have an update or need to make an edit? Make changes in real time with ease.
Create any Call To Action to capitalize on a deeply engaged audience.
Drive ticket sales, membership, donations, contests, programming. Anything.
Analyze Your Results
Understand how people interact with your content.
See which content converts into physical visits.