VAM Book Review: Exhibit Labels: An Interpretive Approach
Date posted
November 25, 2019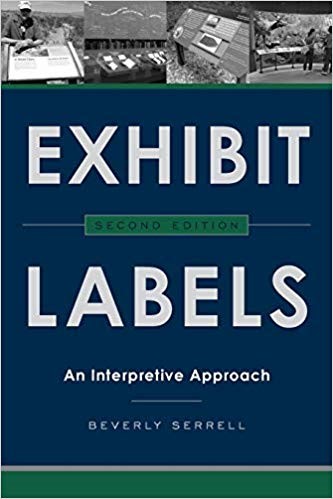 Exhibit Labels: An Interpretive Approach was first released over 20 years ago (1996, though the latest edition was published in 2015 by Rowman & Littlefield*), but many of the topics and approaches covered remain essential to exhibit design today. It is worth a read for those who are new to the field, or just haven't had a chance to check out this publication before now.
Beverly Serrell, an exhibit design and evaluation consultant, offers in her book a clear, easily accessed series of guidelines for creating effective interpretive labels as part of an exhibition. The chapters are concise and written for practical use, not theoretical study. In her words, "the goal for readers of this book should not be to achieve or expect perfection in museum labels, but to be able to recognize quality and make intelligent decisions about how to make better labels and more effective exhibitions."
(page xv)
The advice offered throughout the book is geared toward smaller museums and beginning exhibit designers but there is plenty of information that can serve as a refresher or reference even for those who have extensive exhibit design experience. With chapters on "The Number of Words" and "Selecting the Right Reading Level," and even a discussion of typography and whether to use bilingual labels, every aspect of the label-writing process is covered. The author includes case studies and images of different labels that illustrate her points, as well as incorporating examples of good and bad labels.
The book concludes with a helpful summary of the "Ten Deadly Sins" of exhibit labels which is referenced throughout the book. This is a great tool for quick refreshers—and a guarantee that no matter how long ago you've read the book, you can come back to it and find what you need quickly when you are faced with a label-related question.
Learn more about exhibit design at our next workshop "DIY Exhibit Planning: Design, Materials and Installation" on December 16th at the National Sporting Library and Museum in Middleburg. Register now!
*The edition of the book that is reviewed here is the original 1996 edition. It is available at the VAM office if you would like to borrow it for a read or re-read!