New Initiative Aims to Conserve a 2015 "Top 10" Nominee
Posted By Heather A. Widener
Updated: Wednesday, August 3, 2016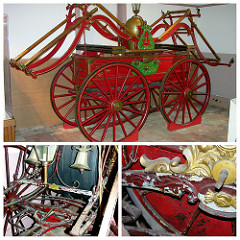 The Friendship Fire Company was established in 1774, as the first volunteer fire company in Alexandria. The current firehouse was built in 1855, was substantially remodeled in 1871, and was restored by the City of Alexandria in 1992. The Company is home to historic fire fighting vehicles.
On display at Friendship Firehouse Museum is The Rodgers Suction Engine, built in 1851, and the Prettyman Hose Carriage, built in Alexandria in 1858. In particular, these two vehicles are in need of extensive conservation to preserve traces of their original appearance. Years of hard use have taken their toll; on one of the vehicles, frequent re-painting now masks what remains of the original colors and gilding, while the original paint has almost flaked away on the other. When fully conserved, the vehicles' paint history will be stabilized and preserved for future generations to enjoy.
Friendship Firehouse Museum nominated the vehicles to the 2015 Virginia's Top 10 Endangered Artifacts program, designed to raise awareness of conservation needs throughout Virginia. While the vehicles did not earn a Top 10 designation that year, they are still in dire need of conservation. Now, The Friendship Firehouse Veterans Association and Office of Historic Alexandria are in the midst of one of a major fund-raising initiative. Proceeds from a Friendship Firehouse Fundraising Event on Friday, August 5th will benefit the preservation of these two important fire-fighting vehicles. Fundraising will be ongoing for the project, and donations are being accepted online.
The event begins with a special Curator's Tour of Friendship Firehouse and the historic fire equipment. Remarks will follow the tour and conclude with a reception across the street at Taverna Cretekou. Event tickets start at $50 per person, with escalating levels of sponsorship. A one year membership in the organization is included in the price of the event ticket. Learn more.