How I Started as a Museum Professional
Date posted
August 7, 2023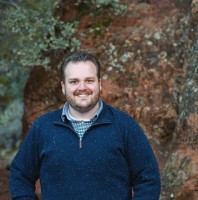 Hello VAM folks! I'm excited to be here in Virginia and at Gunston Hall in particular, after a long and somewhat tortuous cross-country trip from southern California. I've always loved history and envisioned myself coming to Virginia at some point in my career (it's where all the history is after all!).
My interest in history probably had something to do with growing up in the same town as four previous generations of my family (Stockton, California) - every street seemed to have a family story attached to it and every item in our house once belonged to some not-quite forgotten ancestor. I felt grounded in a way I didn't recognize until I moved away. I've spent my career advocating for preserving places and things that matter to diverse communities so that others can experience the same sense of place I felt growing up - the same innate sense of context and belonging that countless studies have shown provide for a healthy and happy life.
I have more than a decade of experience in the museum and public history field, with a particular focus on historic site management, museum interpretation, and strategic planning. I'm excited to share that past experience today as Deputy Director of Gunston Hall and to learn more from my colleagues at the site and throughout the Commonwealth in the years ahead.