Hidden Learning with a US Map: A Top 10 Tale
Posted By Rebecca Guest
At VAM, we love sharing success stories from organizations featured in Virginia's Top 10 Endangered Artifacts program. From press stories to conversations with participants, we enjoy learning new outcomes. We are thrilled to share with the public a recent update from the MacArthur Memorial.
For the 2016 Top 10 program, the MacArthur Memorial nominated its Cloth Children's Map of the United States (with National Historical Scenes), c. 1941. Helen Angeny was a missionary working in the Philippines and art teacher at Brent School in Baguio when Japanese forces invaded in December 1941. While interned in a Japanese-controlled camp, Angeny led her students in the creation of a cloth map of the United States as a class project to teach the principles of art, social studies, and geography. The map also served as a teaching device to help boost morale of the students during their imprisonment. Knowing the consequences of severe punishment, Angeny concealed the map from the enemy for three years. According to Corey Thornton, curator of the MacArthur Memorial, "Angeny wasn't really supposed to be working on anything of western influence. If the Japanese were to find this, she would be severely punished." After the camp was liberated by General Douglas MacArthur's forces in 1945, Angeny kept the map and other documents. The map was donated to the MacArthur Memorial by the family of Helen Angeny in 2013.
The map is made of a cotton-silk blend material. Its edges are decorated with paper squares, each with its own crayon-drawn scenes from American history. There has been wear-and-tear and fading over time and there are a few areas in which the paper cards are beginning to come away from the cloth.
After being featured in Virginia's Top 10 Endangered Artifacts program, the MacArthur Memorial raised in just a few months $6500 in donations to help conserve the map. This funding will help stabilize the map and preserve it for future generations. Thornton shared, "We are excited to be moving forward so quickly with the conservation efforts, considering that the top ten list came out just about two months ago. We are now coordinating with Textile Preservation Associates, Inc. to provide the services needed to conserve and mount the map in an archival encasement. We are planning to display the map most likely by next fall, inside the Memorial for a 3-6 month duration. All of this, of course, would not have been possible without VAM's wonderful Top Ten program. VAM continues to shine as the primary resource organization for museums in Virginia!"
Thank you to Corey Thornton and the MacArthur Memorial for updating VAM on the Cloth Children's Map of the United States. To learn more about the MacArthur Memorial, including its programs, upcoming events, exhibits, and archives, visit http://www.macarthurmemorial.org. The MacArthur Memorial is free and open to the public Tuesday through Sunday.
In this video from Norfolk TV-48, you can learn more about the map and the MacArthur Memorial's conservation plans: https://www.youtube.com/watch?v=CXp6b7e-Uc4&feature=youtu.be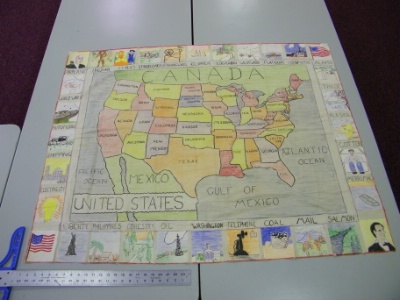 Sources
1. Justin Belichis, "Endangered World War II Artifact in Norfolk Receives Conservation Funding," Southsidedaily.com, November 4, 2016, accessed November 28, 2016, http://southsidedaily.com/2016/11/04/endangered-world-war-ii-artifact-in-norfolk-receives-conservation-funding/.
2. Corey Thornton, Cloth Children's Map of the United States (with National Historical Scenes), c. 1941, Nomination form for Virginia's 2016 Top 10 Endangered Artifacts Program, 2016.
3. Corey Thornton, e-mail message to Rebecca Guest, November 18, 2016.