Bringing History to Life Through Innovative Technology
Date posted
March 27, 2018
Posted By Crystal Douglas
Updated: Monday, March 26, 2018
Technology is one of the forces that drive our society forward. Museum exhibitions across the country are integrating modern technology to enhance the museum experience. By using resources like apps, 3D scanning, 3D printing, and virtual reality, exhibitions are coming to life. Experience design is revolutionizing the way we see the world, and the way future generations will see the world. Through innovative technology, our understanding of history is revolutionized through advanced interactions with artifacts on display.
At the latter end of 2017, the Rosicrucian Egyptian Museum in San Jose, California, pulled a 2,000 year-old mummy from their collection to take part in a project to bring history alive. The mummy had been brought to the museum in the 1930s. The museum wanted to know more about the mummy's story by seeing what was under the wrappings without causing damage by unwrapping the form. Technicians at the museum combined a process of CT and 3D scans to examine the mummy internally. The 3D scans added depth and detail with dimension and color to the CT scan which enabled the scientists to see more of what was beneath the wrappings. The scans showed that the mummy was a little girl who passed away at five years old. Most of her internal organs had been removed but she was buried with jewels and necklaces that indicated she was from a wealthy family. The scientists named the girl "Sherit" which is Ancient Egyptian for "little one." Finally, the scans gave the techs enough information to create a system that allows the museum guests to examine the mummy themselves. Guests are able to see beneath the wrappings by moving an iPad along the body. The innovation at the Rosicrucian Egyptian Museum has allowed its visitors to put faces to ancient names to gain a more personable understanding of our world's remarkable history.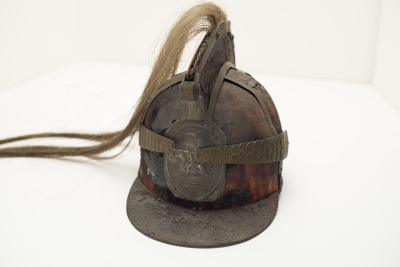 A local museum in Virginia has hopped on the experience design train as well. In 2014, one of our Top 10 Endangered Artifacts Honorees, the Rockbridge Historical Society (RHS) nominated a War of 1812 Cavalry Helmet worn by one of the Rockbridge Dragoons. In presenting the artifact to potential donors, RHS went a step further than providing a written description and a traditional photograph. RHS produced an innovative 3D model of the helmet. The 3D model allows viewers to get a more in-depth look at the helmet without handling or damaging the original artifact. Viewers can manipulate every inch of the model while reading about its details and current state. The 3D technology even allows the viewer to rotate the model to examine the inside of the helmet. RHS used interactive technology to create an experience that enhances personal understanding of the helmet's construction and purpose. The experience goes beyond making one aware of the artifact's deterioration. The experience brings the artifact to life through revolutionary technology allowing people to transform historic content into interactive storytelling.
---
Explore More!