Advocacy Day: It's All About Relationships!
Posted By Dee Dee Barbour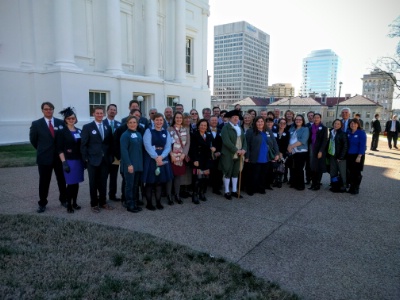 Since beginning my fundraising career, 12 years ago, I have built and maintained relationships with my legislators just as I would with my donors, with bi-annual visits to keep them updated regarding my organization. Over the years I've found legislators really appreciate the visits both in Richmond and their district offices. They enjoy hearing about the projects, special events and the impact being made in their communities. They have always been supportive and willing to advocate as often as possible. They just need to know exactly how they can help.
It is actually quite easy to contact your legislator's district office and to make appointments with their legislative assistant. In light of VAM's upcoming Advocacy Day, you can ask for an introductory meeting one on one or let them know you will be part of VAM's group that will be stopping in to see them on January 12, 2017. While meeting with your representative this is your opportunity to share highlights from your museum as well as the important issues effecting museums throughout the Commonwealth.
It's a nice touch to bring some literature with you to share with your representatives - calendar of events, brochures or annual reports. This way even if they aren't able to make your appointment, which sometimes happens in Richmond, they will know their constituents have made a huge effort to visit them. I can't tell you how much seeing someone from home in Richmond means to them! For an added bonus, if you are able to bring a small token such as admission passes or a lapel pin from your museum that is icing on the cake. Keep in mind ALL items need to have minimal value or they can't be accepted.
I hope you take a few minutes this week to contact your legislators. Even if you are unable to join us during Advocacy Day let them know a contingency from VAM will be there on January 12, 2017 and if they have time they should stop in General Assembly Building Conference Room 7E, at 9:30 am, for a cup of coffee and to hear the latest museum news!
Best wishes in 2017!
Dee Dee Barbour, Director of Philanthropy
Museum of the Shenandoah Valley