Apply to Host the Smithsonian's New Touring Exhibition
In 2021, VAM and Virginia Humanities will be sponsoring the newest Museum on Main Street exhibition, Crossroads: Change in Rural America as it makes a visit to Virginia
The Smithsonian's Museum on Main Street Program is making a return to Virginia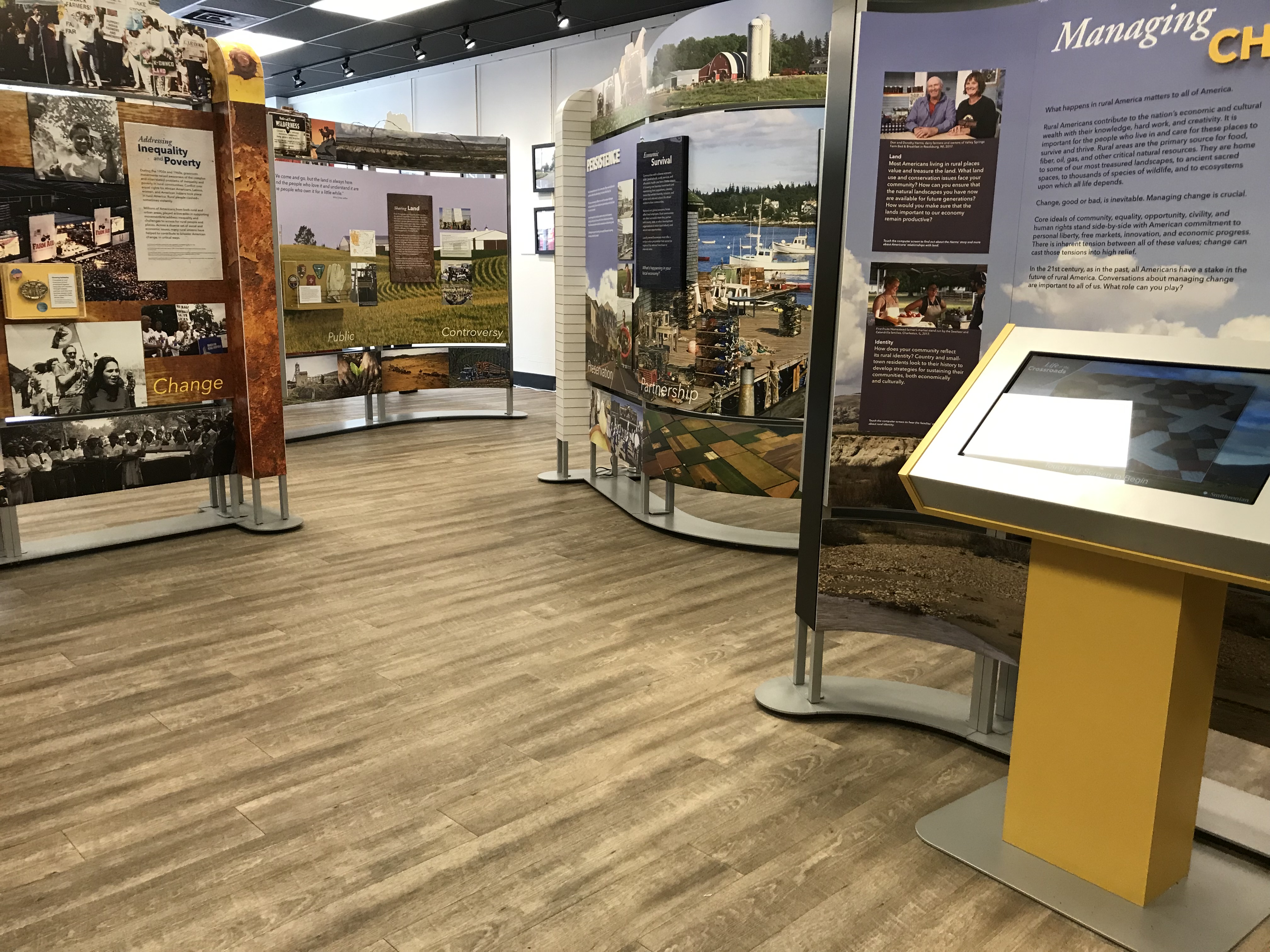 Crossroads: Change in Rural America
In 1900, about 40% of Americans lived in rural areas, By 2010, less than 18% of the U.S. population lived in rural areas. In just over a century, massive economic and social changes led to massive growth of America's urban areas. Yet, less than 10% of the U.S. landmass is considered urban.
Many Americans assume that rural communities are endangered and hanging on by a thread—suffering from outmigration, ailing schools, and overused land. But that perception is far from true in many areas. Many rural Americans work hard to sustain their communities. Why should revitalizing the rural places left behind matter to those who remain, those who left, and those who will come in the future? All Americans benefit from rural America's successes. We can learn great things from listening to those stories. There is much more to the story of rural America!
Crossroads: Change in Rural America offers small towns a chance to look at their own paths to highlight the changes that affected their fortunes over the past century. The exhibition will prompt discussions about what happened when America's rural population became a minority of the country's population and the ripple effects that occurred.
Interested in Participating?
Museum on Main Street exhibitions are designed for small museums in small towns and rural areas. All selected host sites receive guidance about how to maximize the exhibition in your community, and how to tie your local stories to the more national picture. In Virginia, we will be selecting six sites to host the exhibition when it is here in 2021and 2022; each site will get the exhibition for 6 weeks. Here is what you need to know before you apply:
You will need:
at least 750 square feet in which to display the exhibition
access, in the exhibit space, to several electrical outlets
ceiling height of at least 8 feet
$200 for the exhibition rental, as well as money to ship the exhibition to the next site
crates: the exhibition arrives in crates; the tallest is 81 1/2" high, so you will need to have doorways that will accept this height. You will also need to have a space that can store the crates once the exhibition is installed. There are 15 crates, which can be stacked when empty, but will need about 300 square feet in storage (does not have to be onsite)
Find out more:
The deadline to apply is November 23.
Chosen sites will be notified in December.