Conservation Grant
Generously supported by the Richmond Conservation Studio

Historical Society of Western Virginia Chosen for the First Painting Conservation Grant Sponsored by Virginia Association of Museums and Richmond Conservation Studio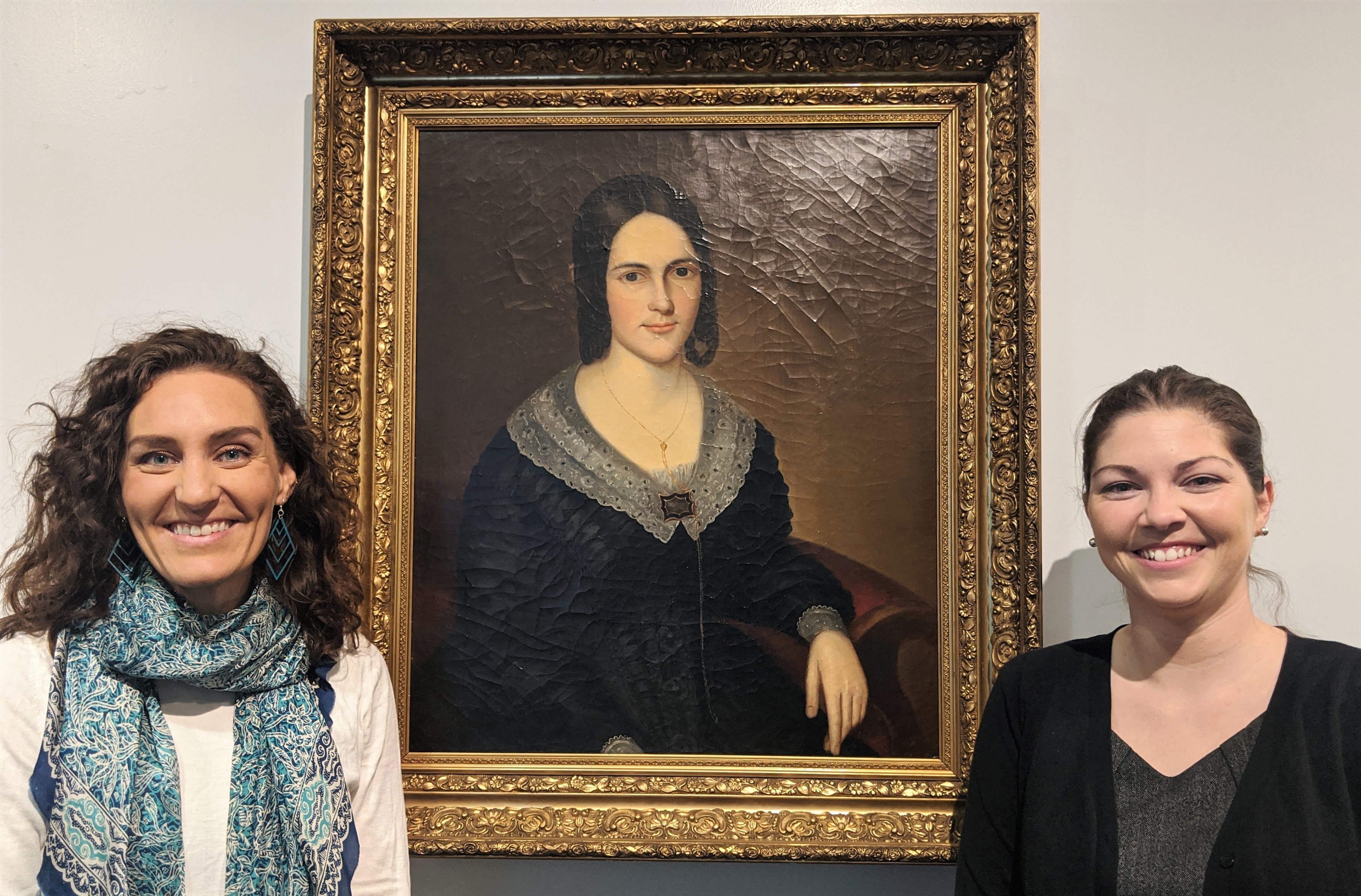 We are pleased to announce a new partnership with the Richmond Conservation Studio that will assist members with a needed conservation project of a painting.
The painting nominated for conservation by the Historical Society is
Portrait of Emeline Sydney Trent Tinsley
, by an unknown artist, c. 1847. The portrait is an oil on canvas and framed in a molded gilt wood frame. Emeline and her husband Benjamin Tinsley were early inhabitants of Big Lick, owning a large portion of downtown Roanoke in the mid 1850s and 1860s. Their home, long since demolished, was called Elmwood, and is now Elmwood Park in downtown Roanoke.
The museum owns very few painted portraits, making this an important object in the museum's collection. The work is an outstanding example of portraiture, fashion, and artistic quality of the period. It accompanies an oil on canvas painting of Emeline's husband, c. 1832, as well as a portrait of Emeline as a young girl, c. 1838.
With the mission of preserving, interpreting and promoting the history of the Roanoke Region, the museum hopes the conservation of this notable portrait will help to better tell the story of some of Roanoke's early residents, provide an understanding of material culture, and advocate for collections care.
The selected portrait will now be brought to the workshop of Richmond Conservation Studio in Richmond, Virginia where the process of conservation will proceed and be documented.
The Virginia Association of Museums is so excited to be working with Richmond Conservation Studio and appreciates their generous support of this project.
For more information, contact Jennifer Thomas, Executive Director, at 804.358.3172 or
jthomas@vamuseums.org
.
Image Credits: The photograph is of the staff of the museum and the portrait of Emeline Sydney Trent Tinsley (1824-1892).
Left is Ashley Webb, Curator of Collections & Exhibitions, and right is Lynsey Allie, Museum Manager
---
Grant Guidelines:
This grant is open to VAM member museums with overall budgets under $1 million.
The institution that is chosen agrees to transport the piece to and from Richmond Conservation Studio in Richmond, VA.
The chosen institution will allow the Richmond Conservation Studio and VAM to post images/video created during conservation process of the painting on social media/website/marketing materials.
The chosen institution will also be able to use those images to post on their own social media as long as Richmond Conservation Studio is given credit for the image and/or work.