Certificate Student Information
All the information and resources you need as a current student.
Online
You can now access all of your earned certificate credits in your Member Compass. Simply log into our website to see your profile, and click on "My Events." Your CEUs will appear, and there is also a button that allows you to run a credit report.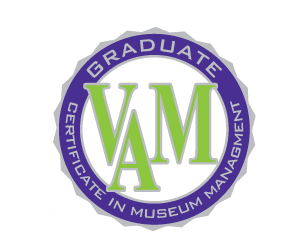 ---
Virginia Certificate in Museum Management Forms
Non-partner Credit Fulfillment Form
If you are completing a workshop that is not run by VAM or one of our partners, please use this form to record your credit. All non-partner credit requests go through our certificate review committee. If you have questions about whether a non-partner workshop will count, please email Jennifer.
Independent Study Request Form
Up to 2 of your ten certificate credits can be fulfilled using independent studies. Review this form for details, and fill it out in order to request such a credit. All independent study requests go through the certificate review committee.
You may propose a final project anytime after completing at least 8 of your 10 core curriculum credits. Before you complete your proposal form, these instructions can help you understand what the review committee is looking for.
---
Sample of a Successful Final Project Proposal
Final Projects
The final project is one of the most important elements of any certificate student's journey, and the most time-intensive. It can be hard to determine what the best project for you might be. To help, and share their projects, some of our alumni have created videos. Take a look here!
Claudia Pfeiffer, 2020 graduate
Dorette Sobolewski, 2019 graduate