Virginia's Top 10 Endangered Artifact Travels to New York
The 299th Combat Engineer Flag on display at the Cayuga Museum of Art and History in Auburn, NY. Below the flag is a donation box to collect donations toward the flag's restoration.The 299th Combat Engineer Flag on display at the Cayuga Museum of Art and History in Auburn, NY. Below the flag is a donation box to collect donations toward the flag's restoration.The 299th Combat Engineer Flag on display at the Cayuga Museum of Art and History in Auburn, NY. Below the flag is a donation box to collect donations toward the flag's restoration.Posted By Heather A. Widener
In 2013 the National D-Day Memorial's 299th Combat Engineer Battalion battle flag was selected as one of Virginia's Top 10 Endangered Artifacts. The flag, which suffers from deterioration around the edges and is in need of repair, was carried by members of the 299th Combat Engineer Battalion, Company B on June 6, 1944 on D-Day. The 299th Combat Engineer Battalion suffered a number of casualties on both Omaha and Utah Beaches during the Normandy Invasion. This particular flag was carried by Company B who assaulted Utah Beach, which landed amid direct fire from German gun emplacements where many men were killed and many more wounded.
As a result of the publicity from the Top 10 campaign, the curator of the Cayuga Museum of Art and History in Auburn, New York contacted the Memorial after seeing the story about the flag being chosen as an endangered artifact. Staff at the Cayuga Museum were in the midst of preparing for their own exhibit about the 299th for the upcoming 70th anniversary of D-Day when the news story caught their attention. "They were so excited to find an actual battle flag from the 299th and wanted to include it as the centerpiece of their exhibit. We could not have been more delighted," stated April Cheek-Messier, president of the National D-Day Memorial Foundation. "There is no doubt that VAM's top ten artifact program is far reaching. By loaning a significant piece from our collection, we helped another museum. They assisted us by distributing promotional materials about the Memorial, our 70th anniversary events, and they collected donations toward the preservation of the battle flag. This was a win-win situation for all involved. This simply reaffirms for me the importance of the Top Ten program. A little publicity can go a long way and in this case, it will help us preserve a crucial part of our history."
Many thanks to April Cheek-Messier for providing us with this fascinating story about one of our 2013 Top 10 Endangered Artifacts!
The 299th Combat Engineer Flag on display at the Cayuga Museum of Art and History in Auburn, NY.
Below the flag is a donation box to collect donations toward the flag's restoration.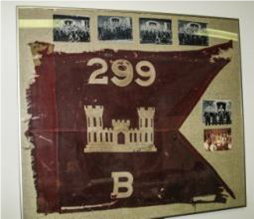 Nomination photo of the 299th Combat Engineer Flag,
National D-Day Memorial.